We are back from PAX Prime! We were showing as part of the Indie Megabooth. I think the show went very well. People seem really excited about the game. I am glad that the new graphics are making a ton of people curious about what the game is (Not sure why I didn't notice the difference as much at PAX East). They were a lot of work but clearly worth it.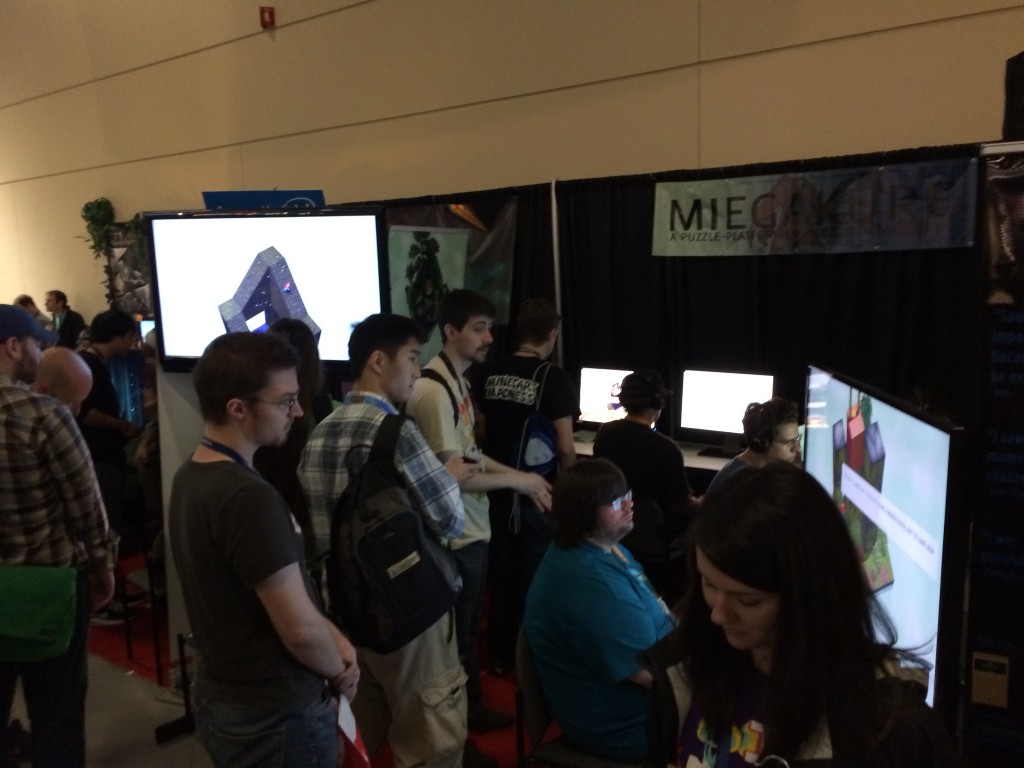 I tried to remember what the most frequently asked questions were, and I plan to write blog posts/ make videos about them. Questions were: is the fourth dimension time? (Nope!) How did you come up with the concept? How is this game even implemented?
If you have more questions that you would like me to answer please let me know (Excluding: when will the game be out?)
We had 4 stations initially but because the wait to play was getting too long, I added a fifth station saturday afternoon. Like last PAX, the main trailer was playing on a big screen, and the explanation trailer was playing on a smaller screen below that.
My favorite moment was witnessing a 9 year old girl play the game better than her father, giving him tips on how to solve the puzzles.
PC Gamer did an awesome preview of the game (they totally got it!).
For the first six or so levels, I did not get Miegakure at all. I was completing the early puzzles, but I had no idea how I was doing it.
I gathered some statistics about most of the playthroughs. It seems the game was played over 400 times, which gives an approximate average play time of around 23 minutes. That's about how long it takes to play the first 13 "intro" levels. Many people played for one or two hours, but I have no trivial way of counting how many.