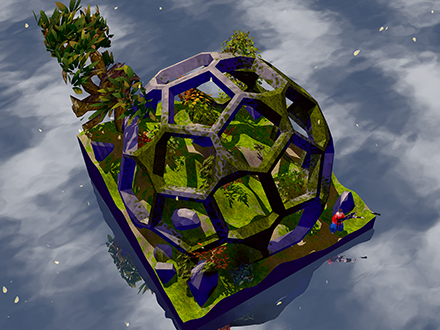 The shape at the end of the trailer is called a 120-cell (or Polydodecahedron, or Hecatonicosachoron, which sounds cooler, but a bit too hard to pronounce). It is actually modified a bit, but first let me explain some basics.
You see, a 3D object has a 2D surface, whereas a 4D object has a 3D surface (an nD object has an (n-1)D surface). So while a dodecahedron has 12 faces which are pentagons, a 120-cell has 120 "faces" which are dodecahedra (called cells, since they are 3D).
The 120-cell is a Convex Regular Polychoron, the 4D analogs of the 3D Platonic Solids (Tetrahedron, Cube, Octahedron, Dodecahedron, Icosahedron). All the faces of a 3D platonic solid are the same 2D regular polygon, while all the cells of a "4D platonic solid" are the same 3D platonic solid! It's basically building shapes out of the the most symmetrical elements each time.
Interestingly, there are infinitely many regular 2D polygons (just divide the circle equally into n sides: triangle, square, pentagon, etc...), 5 regular 3D convex polyhedra, 6 regular 4D convex polychora, but in 5D or more there are only 3 types! It appears that building shapes this way gets more and more complex until it is no longer possible, save for a few very generalizable cases (the hypercube, for example).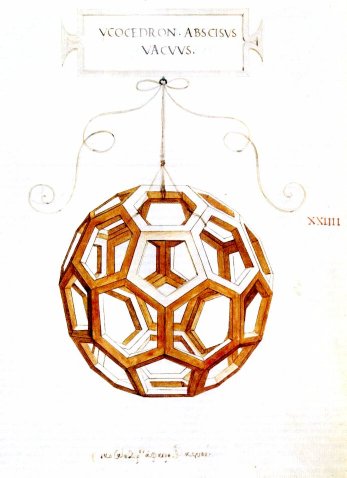 But what you see in the game is not quite a 120-cell, it is actually a 120-cell with a hole inside each cell. Vi Hart [Youtube Channel] came up with the idea to do this, inspired by drawings by Leonardo Da-Vinci.
In the drawings, a hole has been cut inside each 2D face, or rather only the edges are visible. In the game a hole has been cut inside each 3D cell (each cell is hollow), or rather only the faces are visible.
The way this is implemented in the game engine is using our 4D Mesh Structure (a 3D mesh is made out of triangles, a 4D mesh is made out of tetrahedra).
What you see is a 3D slice of a 4D object. While the 4D object is static, the 3D object you see transforms as the slice changes, similar to what you see in a moving slice produced by an MRI machine, but in one higher dimension (The image on the right is an MRI slicing though a banana flower).
The reason the number of faces changes is that depending on which slice you take, you might go though a different number of cells (each cell you slice will produce a face). If you slice the 4D object near its tip, you will get a small 3D object. If you slice the 4D object near the center, you will get a larger object. This is similar to slicing a 3D sphere with a 2D plane. Use the following sliders to slice through a dodecahedron, and its "Davinci'd" version. (Note that in the game we are rotating the 3D slice whereas here I am letting you move a 2D slice up and down, but the morphing effect is the same).